Download the extension
The WeVideo Quick Recorder allows you to record screen and webcam recordings from any window or tab. You can download the extension at the Chrome Web Store to install it on your Chrome browser.
After finishing the installation process, complete the following steps to get started:
Step 1) Log in with your WeVideo account.
If you are already logged in on another tab, you can continue with the same login.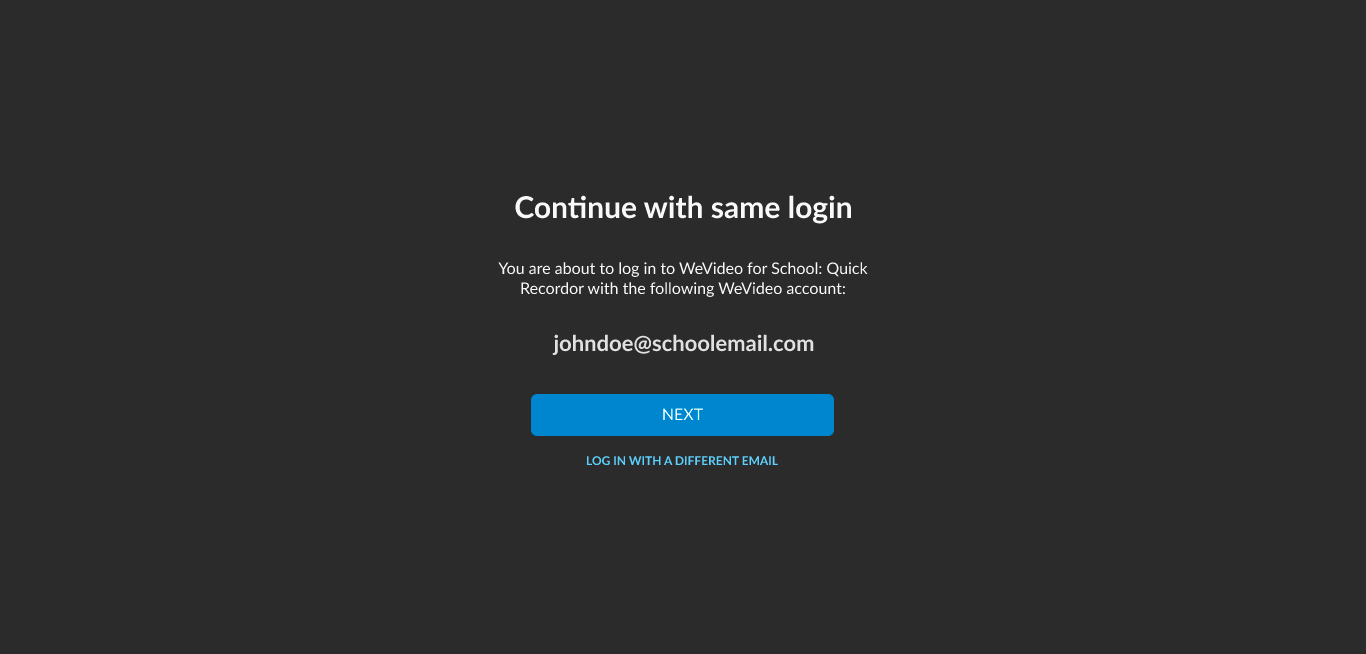 Otherwise, log in with your SSO or email address.

Why do I need to provide access?
Permission to access your camera is required so that your device's built-in webcam, or external webcam, can be used to capture a webcam recording.
Permission to access your microphone is required so that your device's built-in microphone, or external microphone, can be used to record your voiceover narration when capturing a screen or webcam recording.
Step 3) Find the extension and pin it so you can access it faster.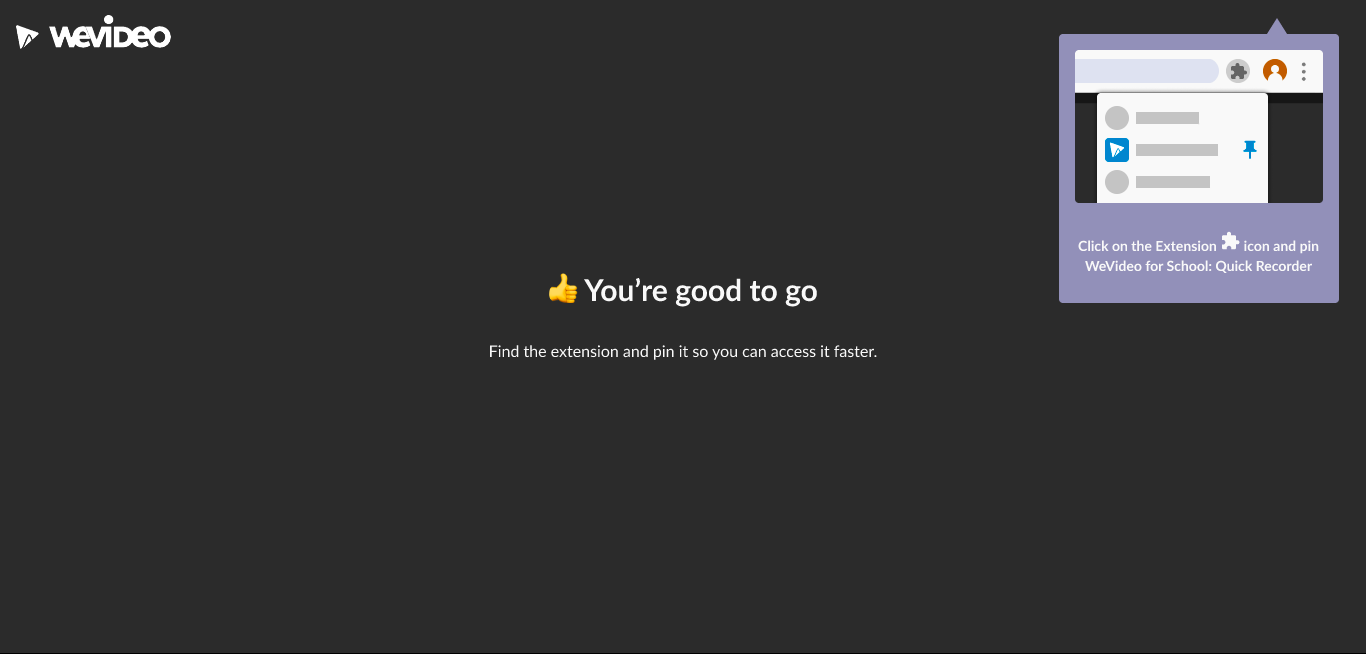 Start recording
When you're ready to record your screen, webcam or both, you can choose between three different capture modes:
Dual capture

enables both screen and webcam recording simultaneously. This capture mode automatically creates a picture-in-picture effect in which the screen recording is the main video background, and the webcam recording is shown as a small overlay window at the bottom-right corner.

Screen recording

enables you to record a video of your entire computer screen, a single desktop window, or a specific Chrome tab. Any actions that you take on the screen (scrolling, clicking, drawing, etc.) are recorded.

Webcam recording

enables you to capture footage of yourself using the built-in camera on your computer. External webcams can be connected and used for these recordings.
| | | |
| --- | --- | --- |
| | | |
| Dual Capture | Screen Recording | Webcam Recording |
Track & highlight features
Track and highlight your cursor location on your screen while recording.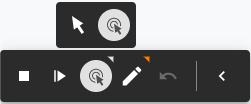 Enable cursor highlights by selecting the cursor with highlight rings

. This allows you to emphasize mouse clicks as shown below: You can disable this feature by selecting the cursor without highlight rings

to show the cursor on the screen without highlights.
Drawing tools
Utilize built-in drawing tools to interact with your visible capture. Select the pencil icon and draw directly on your current view.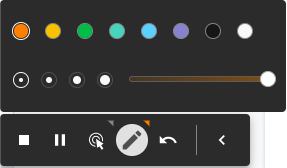 You can modify the color, line size and transparency of the drawing tools using the adjustable settings shown above.

To change the color or line size, simply select the option that you find the most fitting. To adjust the transparency, drag the slider to the left or right to decrease or increase visibility.
Pause / stop recording
How to pause or stop a screen recording

While capturing a screen recording, you can select the pause icon highlighted above if you need to take a quick break to collect your thoughts. This will disable the capture of the recording without ending it. You can then select the play button at any time to continue recording where you left off.
The stop icon

will end the recording when you want to finish capturing your screen. Alternatively, you can also select Stop sharing

to achieve the same result and end the recording.
How to pause or stop a webcam recording
While capturing a webcam recording, you can select the pause icon

to stop capturing your footage and temporarily pause the recording. To resume recording your footage, you can press the resume button to continue where you left off, as highlighted below.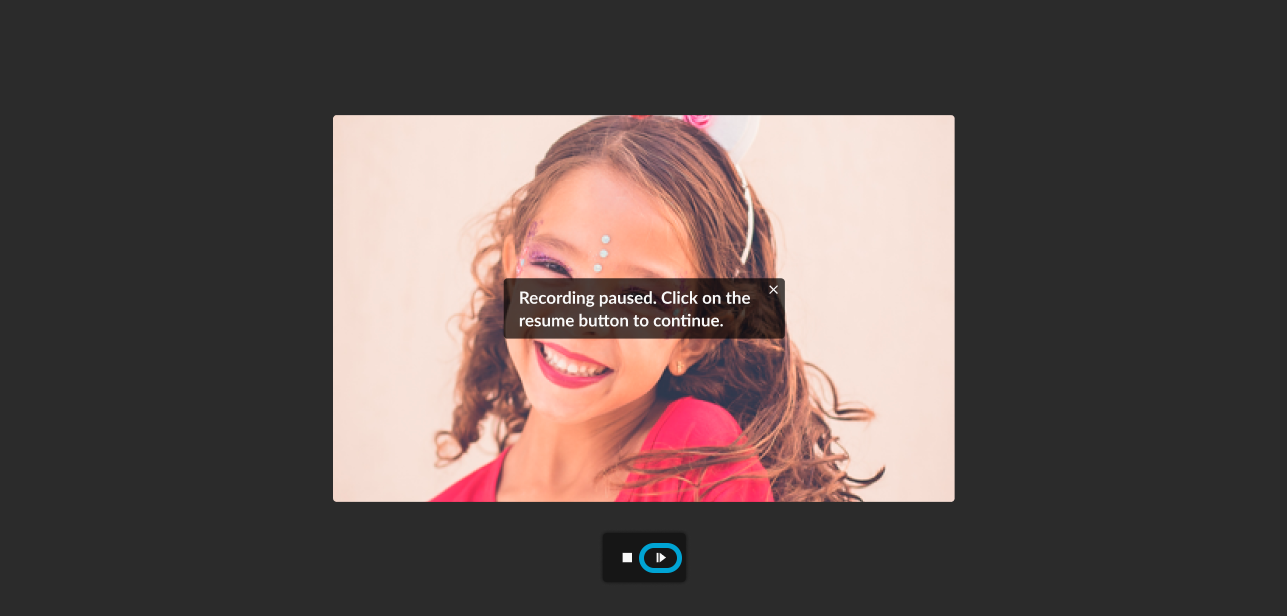 Once you're finished capturing your webcam recording, you can select the stop icon

to end the recording and save your footage.
Save your recording
After you finish recording, you can open your recording in the WeVideo app to make edits.
If you don't need to make any edits to your recording, you can send it as a media file to WeVideo, Google Drive, or OneDrive.
You can also download your recording to your computer as a media file.
All of your recordings can be accessed in the My recordings tab, as shown below.
Now you're ready to start recording!